1. Toast your love 🍞
Toast your love with a glass of champagne or drink all the cocktails you want. Having a Buddy Driver allows you to enjoy your night without worrying about getting behind the wheel.

2. Sit back and relax 🚗
Although you only have eyes for each other, you aren't the only ones out celebrating their relationship. And nothing kills romance more than traffic and busy parking lots. Avoid the stress and have a personal driver drop you off right at the door. Anyone in heels will appreciate it!

3. It's all in the details 📜
How often do you have a personal driver pick you up and drop you off wherever you need to be? Booking a Buddy Driver for the evening can make you and your date feel like royalty.

4. Just the two of you 👩🏻‍❤️‍👨🏻
Keep your eyes off the road and on your sweetheart. Using a driver allows more time to connect with each other on the way to your date destination.

5. Book a staycation 🛏️
With the travel restriction due to Covid-19, here's a chance to bring your sweetheart for a domestic staycation to spend intimate and quality time with only two of you. There are a lot of romantic ambiance hotels in the city center where you can explore Kuala Lumpur with your loved one. But wait, did you know you can also win a staycation this Valentine's Day? Scroll down below to find out more!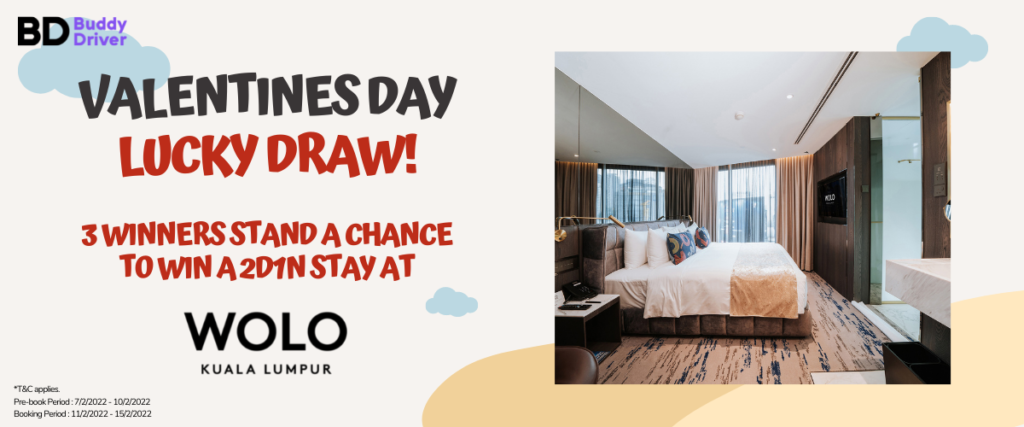 Win a Lovely Staycation This Valentine's Day!
Buddy Driver is giving out three (3) 2D1N stay at WOLO Kuala Lumpur including very good breakfast and romantic setup worth RM400. The artsy design and elegant atmosphere in WOLO Kuala Lumpur gave it a romantic ambiance that will make your Valentine's Day date extra sweet!
So how you can join this lucky draw? It's easy ! All you have to do is download the TREVO app and book a Buddy Driver within the period and stand a chance to win the romantic staycation!

Lucky Draw entitlement period: 7th – 15th Feb 2022
Why not book a Buddy Driver for your Valentine's Day trip? 🚗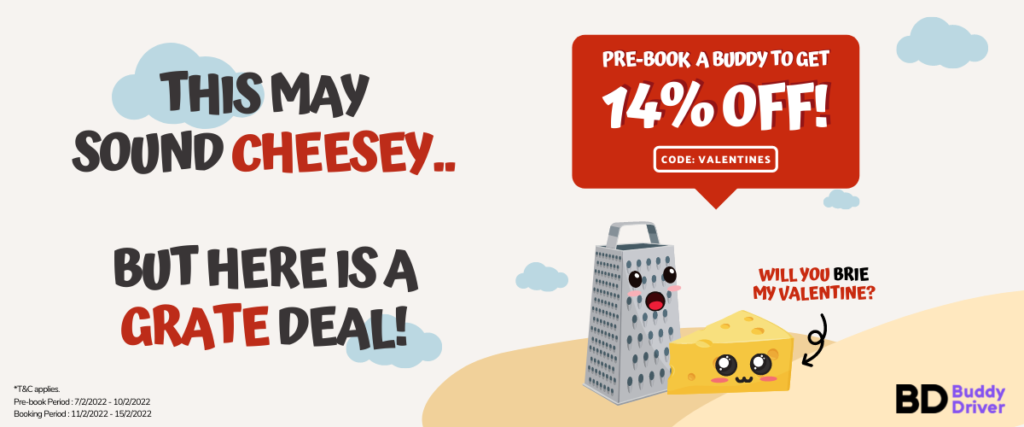 Terms & Conditions (Lucky Draw):
1. Each completed Buddy Driver booking on the TREVO app within the period (7th – 15th Feb) with or without any promo are entitled to join this lucky draw.
2. One (1) booking reference number for one entry.
3. Draw results will be shared with the three (3) lucky winners on 17th Feb 2022 via email.
4. The three (3) lucky winners will each be rewarded with one (1) night stay at WOLO Kuala Lumpur.
5. The three (3) lucky winners will each be given four (4) hours of Buddy Driver ride to and from the hotel (2 hours before check-in & after check-out).
Terms & Condition (Promotion):
Promo Period (PRE-Book): 7 – 10 Feb 2022
Booking Period: 11 – 15 Feb 2022
Promo code: VALENTINES
Discount: 14%
Plan your Valentine's Day staycation now to surprise your beloved! 💕